NORD STAR mattress
Sku 22019589-1
A luxurious mattress with a rich construction and many extras
Read More
Вземи желания продукт сега, с няколко лесни стъпки!
Межете да добавите избрания от Вас продукт в кошницата на магазина избирайки бутона 'Добави в количката'. След което в кошницата на магазина ще имате възможност да изберете метод на плащане 'На кредит с UNU Credit'. Там ще можете да си изберете предпочитаните от Вас брой месечни вноски, да си добавите, ако желаете известна сума като първоначална вноска. Ще можете да видите 'Годишния Лихвен Процент', 'Годишния Процент на Разходите', както и 'Общата сума', която ще платите за лизинга. При желание за закупуване ще бъдете прехвърлени към страницата на UNI Credit за завършване на процедурата.
---
3 месеца
Вноска: 449.53 лв.
ГЛП: 23.00 %
ГПР: 25.59 %
4 месеца
Вноска: 340.33 лв.
ГЛП: 23.00 %
ГПР: 25.59 %
5 месеца
Вноска: 274.82 лв.
ГЛП: 23.00 %
ГПР: 25.58 %
6 месеца
Вноска: 231.16 лв.
ГЛП: 23.00 %
ГПР: 25.58 %
9 месеца
Вноска: 158.45 лв.
ГЛП: 23.00 %
ГПР: 25.58 %
10 месеца
Вноска: 143.93 лв.
ГЛП: 23.00 %
ГПР: 25.59 %
12 месеца
Вноска: 122.16 лв.
ГЛП: 23.00 %
ГПР: 25.59 %
18 месеца
Вноска: 85.98 лв.
ГЛП: 23.00 %
ГПР: 25.59 %
24 месеца
Вноска: 68.01 лв.
ГЛП: 23.00 %
ГПР: 25.59 %
30 месеца
Вноска: 57.32 лв.
ГЛП: 23.00 %
ГПР: 25.59 %
36 месеца
Вноска: 50.26 лв.
ГЛП: 23.00 %
ГПР: 25.58 %
Добави в количката
Откажи
C.C.Ver. 1.1.11
BGN 1,298.50
BGN 1,855.00
View 360 Product
Advantages:
100 Nights test period of premium models mattresses
Manufacturer's warranty
Free for up to 15 years
Made in Bulgaria
100% handmade in BG
DETAILS
NORD STAR - high quality sleep
Aristocratic luxury and comfort are the characteristics of this elegant product created for connoisseurs of complete sleep and sophisticated design.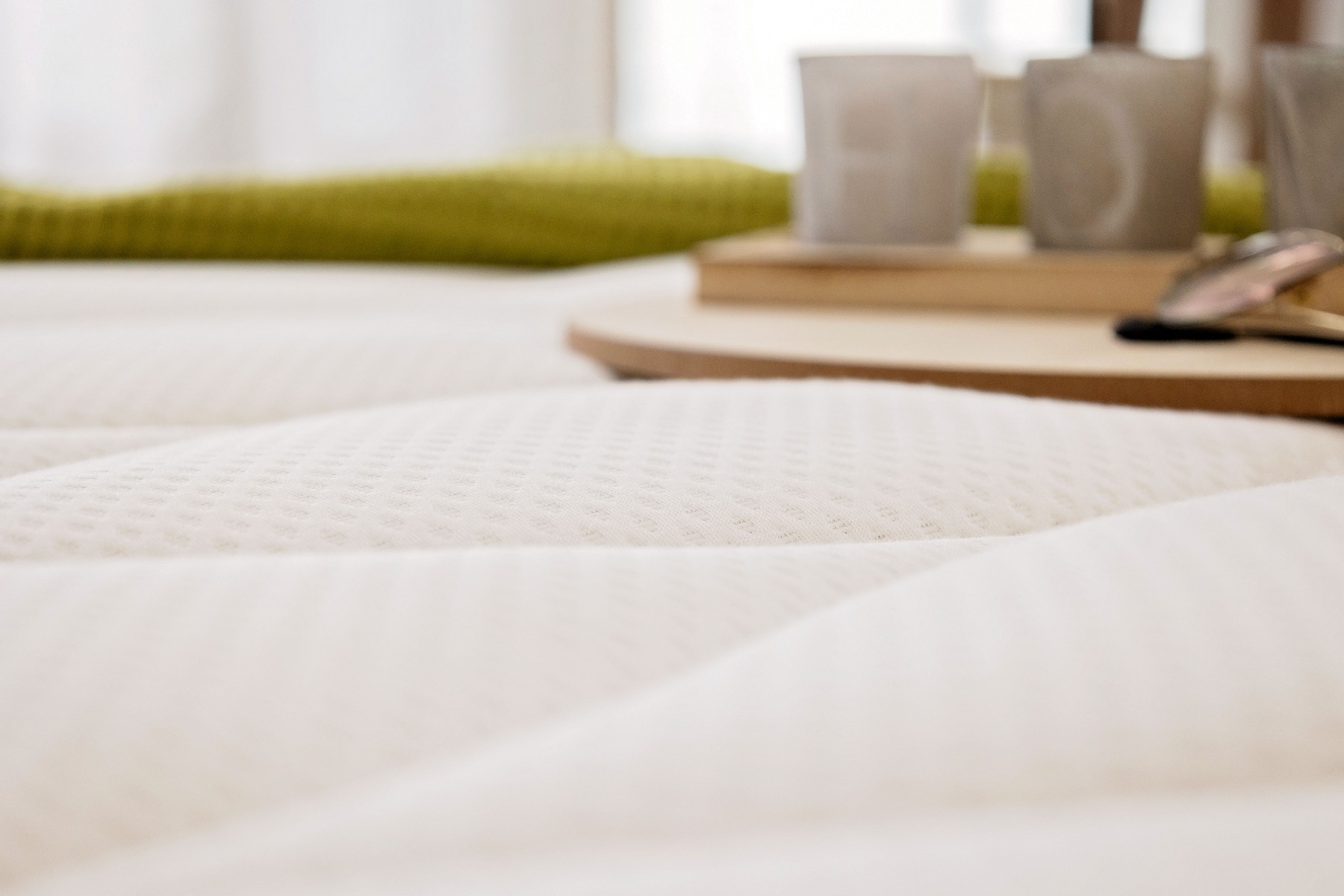 The built-in topper on one side is a hybrid construction of comfortable first-class materials: perforated latex wiht exceptional elasticity, innovative NeroPur™ foam with neroli (orange blossom) extract and fine nonpocket springs. The topper can be easily turned over and completely removed, according to individual comfort preferences. The selected combination of innovative technology in the upper layer of the mattress creates incomparable convenience and thermal comfort during sleep. 
The orthopedic support is guaranteed by a core made of precise i-Springs Super Comfort technology - a stable multi pocket that provides the necessary support for different parts of the body, according to the pressure they exert. The layer of natural coconut fibers creates a firm insulating surface, and the highly elastic HR foam takes care of the comfort. Soft and gentle to touch textile with organic cotton, natural antibacterial and thermal regulating properties is chosen for a final finish of the rich, luxurious desing.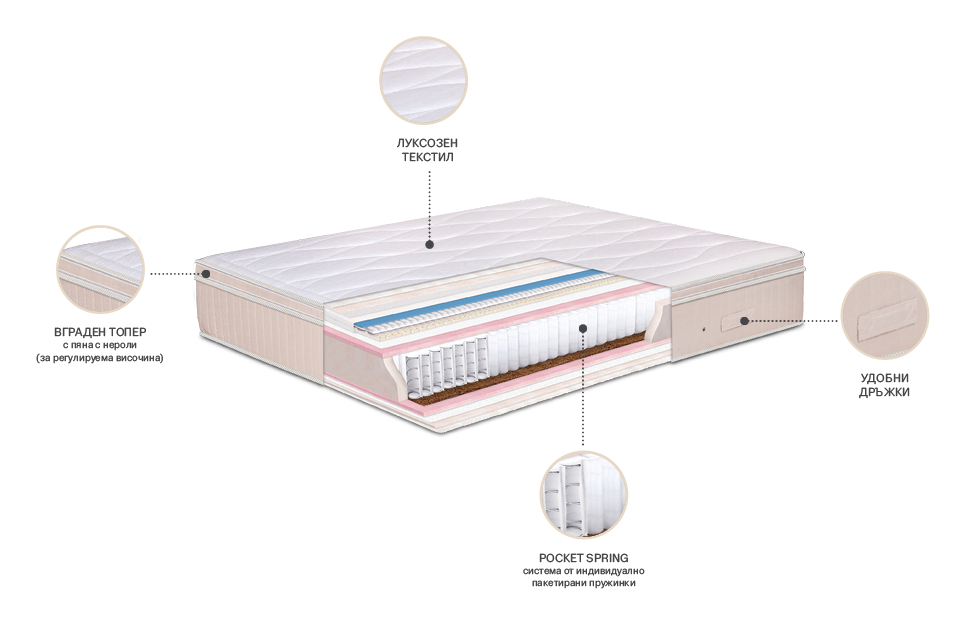 Luxurious model
Exquisite design
Boxspring type mattress - complex workmanship with many different materials
HR foam layers and a coconut layer complete the lavish and rich design of the mattress
Moisture resistant
High multi pocket spring package with more support points 
Nano pocket springs for a gentle but strong and precise support
Built-in top mattress
Foam with neroli extract and a layer of latex contribute to the exceptional elasticity of the mattress
High-class organic cotton textile
Summer and winter side
High firmness degree
35 cm. +-1 cm. height
15 years warranty
Handmade in Bulgaria
Free delivery
Premium class TED product
Free delivery 
Delivered non-rolled